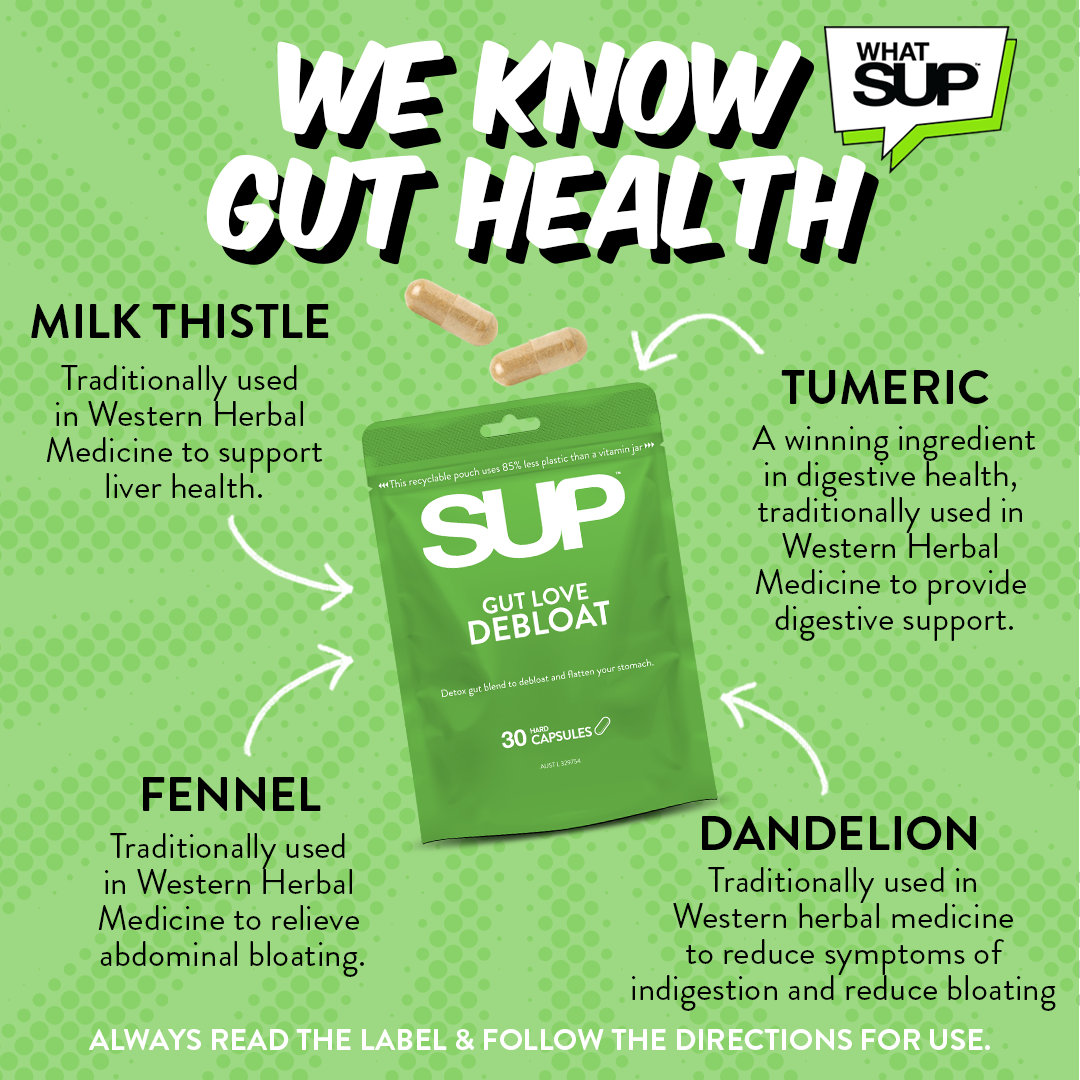 bye bye bloating
SUP's Gut Love Debloat capsules contains ingredients used in traditional Western Herbal Medicine to help:
Relieve abdominal bloating
Support natural body cleansing
Relieve symptoms of indigestion
Relieve flatulence
hero ingredients
What's in SUP Gut Love Debloat Capsules?
Milk thistle is traditionally used in Western herbal medicine to support liver health, but it is also used in Traditional western medicine for helping to relieve symptoms of indigestion. This cute as a button bloom packs a punch.
Fennel is traditionally used in Western herbal medicine to reduce abdominal bloating. It's not just for expense salads in fancy restaurants after all.
This stubborn 'weed' has been traditionally used in Western herbal medicine for a long time to reduce symptoms of indigestion and reduce bloating. Dandelion is traditionally used in Western herbal medicine to protect the liver.
Turmeric is a winning ingredient when it comes to digestive health. It is traditionally used in Western herbal medicine to provide digestive support.
our customers rate it
Amazing Product!

"Amazing product, has really helped me reduce that bloating and feel more comfortable."
FREQUENTLY ASKED QUESTIONS
Milk Thistle, Fennel, Dandelion
and Turmeric.
Purchase SUP here on our website! Or head into your local Coles, Woolworths or Chemist Warehouse. SUP is also
available at selected pharmacy stores and various online retailers.
Store your Gut Love Debloat Capsules under 25 degrees
celsius.

In general, we recommend that you do not store SUP supplements in direct sunlight or heat. 
We would recommend consuming SUP products only as directed on pack. As stated on the "Directions for Use" of the Gut Love Debloat Capsules packaging, you should take 1 capsule 2 times a day before food, or as directed by your health professional.
If you have trouble swallowing
capsules, please look at our gummies and shot ranges. These formats may be more
suitable for you. We would recommend consulting your doctor or health professional before starting to take any new supplements.
SUP Supplements are formulated for adults 18 years and above.
Please consult your Heath
Care Professional or Doctor before use.